Hello, Friend!
As you know, we moved to Las Vegas in June and haven't stopped since! Not sure if you noticed, but The Baking Cup got a new website and that's part why I haven't posted anything in a while. I'll go more in detail about what I've been up to since the move in another post.
Just wanted to pop up and share GREAT news with you :) We are now open at the Las Vegas Farmers Market in Summerlin located at Bruce Trent Park, 1600 North Rampart Blvd, Las Vegas, Nevada. The Baking Cup will be there every Wednesday from 4 pm to 8 pm offering all kind of desserts: from decadent cookies to scrumptious cupcakes like our Pumpkin Spice Cream Cheese with Maple drizzle.
Here's a little collage of September's 24th menu (sorry for the low quality photo), which includes Red Velvet, Cookies n Cream (Oreo) and Pumpkin cupcakes. We also have our signature chewy, gooey  Chocolate Chunk Cookie and our Chocolate Chocolate Cookie, which is like a lava cake is cookie form. I think you get the idea how delicious that cookie is, mmmm!!
We also have a new menu page here within our website under the Sweets & Desserts tab. We're still in the process of uploading photos and updating the page with new seasonal flavors! We also take orders throughout the Las Vegas area for delivery or pick up. Feel free to contact us through our website under the Contact tab.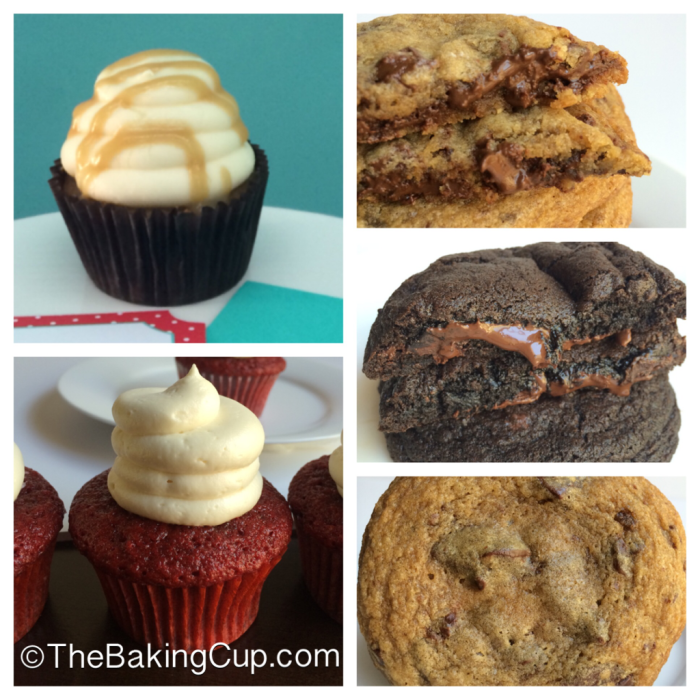 Don't forget to follow us on Instagram, Facebook and Twitter! You can definitely keep up with us and most importantly, keep in touch with us on a daily basis!
Thanks for checking out the blog, the new website, and please visit us at the Las Vegas Farmers Market – We'd LOVE to meet you!
Carolina