About The Baking Cup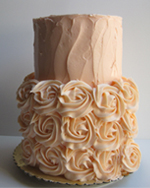 Welcome!
The Baking Cup is a Sweet Shop specializing in the highest quality cakes and desserts you've ever tasted! Located in Las Vegas, Nevada, The Baking Cup believes that the ingredients should provide the flavors, so we don't add artificial flavoring or sweeteners. Once you taste it, you'll know exactly what we mean!
Rave Reviews
The Baking Cup made my daughter's first birthday cupcakes and they were excellent! All my guests were raving about how good they were. She made regular sized, mini and a cute smash cake. They were beautiful and delicious!
- S.S.
The s'mores cake is irresistible. It's truly the best cake I have ever had.
- Tom B.